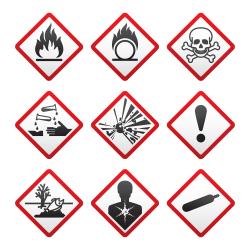 The HazCom Policy is included in every (M)sds book, eBook and custom binder we sell.
Product Description
Our Hazard Communications Program Template comes with everything you need to be in compliance with OSHA's hazard communication standard for any industry, in an easy to understand format so you, and your employees, can learn what the OSHAs regulation requires of you.
Includes:
The forms that are necessary for you to fill out to adapt this policy to your own business
A Written Hazard Communication Program that meets the current OSHA regulations
An employee training guide - that is an essential part of your policy
You get the format for your inventory list
Also includes necessary literature, regarding the HCS, that OSHA requires every business to be familiar with
It's a Word Document so you can edit it
SDS NOT INCLUDED
Go to checkout payment > my account > purchased downloads... download your copy now.
OSHA REQUIRES ONE IN EVERY WORKPLACE